Write a Java program for sorting a given list of names in ascending order                     
 Week – 3
b)Aim: To Write a Java program for sorting a given list of names in ascending order.
Description :
The input for this program are set of names and the output is the same names arranged in ascending order. This program uses the technique of Bubble sort to sort the names. To compare two strings, we use the pre-defined method compareTo() defined in string class of java io package.
This method returns -1 if string1 is less than string 2 , 0 if both strings are equal,1 if string1 is greater than string2. Based on this condition and by using swaping technique, the given input strings are sorted in ascending order and displayed as the output.
           

public static void main(String ar[])
                       

System.out.println("Enter number of strings : ");
                       

Scanner s=new Scanner(System.in);
                       

String a[]=new String[n];
                       

System.out.println("Enter "+n+" Strings : ");
                                               

if(a[i].compareTo(a[j]) >0)
                       

System.out.println("Names after sorting

 

: ");
                                   

System.out.println(a[j]);
Enter number of strings :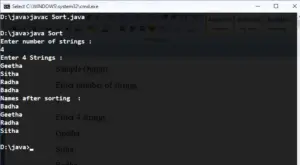 Write a Java program for sorting a given list of names in ascending order
https://en.wikipedia.org/wiki/Sorting_algorithm